The Mind of William Hooker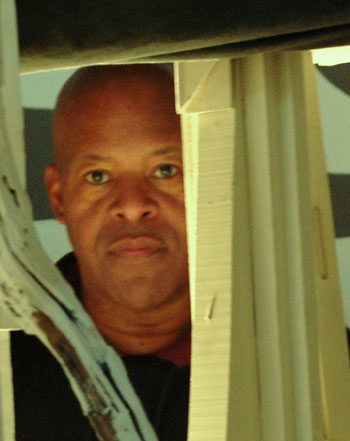 Click Here
for "William Hooker : Multidisciplinary projects" on YouTube.
"William Hooker's body of uninterrupted work beginning in the mid-seventies defines him as one of the most important composers and players in jazz. As bandleader, Hooker has fielded ensembles in an incredibly diverse array of configurations. Each collaboration has brought a serious investigation of his compositional agenda and the science of the modern drum kit.
His work is frequently grounded in a narrative context. Whether set against a silent film or anchored by a poetic theme, Hooker brings dramatic tension and human warmth to avant-garde jazz.
His ability to find fertile ground for moving music in a variety of settings that obliterate genre distinctions offers a much-needed statement of social optimism in the arts." Thomas Stanley.
William Hooker (drummer,composer and poet) has created works that range from jazz and "new" music to experimental genres. He has released over 70 CDs as a leader. Mr. Hooker has performed at the Brooklyn Academy of Music, Edgefest Jazz Festival, The Vision Festival, The David Rubenstein Atrium at Lincoln Center, The Wadsworth Atheneum, Queen Elizabeth Hall, The Walker Art Center,the first on MTV, The Kitchen, Roulette, Real Art Ways. He has also presented his work at the JVC Jazz Festival, Montreal Jazz Festival, Vancouver Jazz Festival, CMJ Music Festival,Vilnius Jazz Festival, Experimenta Argentina,The Knitting Factory and the Victoriaville Music Festival.
William Hooker has received commissions and support from the New York State Council on the Arts,Meet the Composer,Tokio Marine Insurance Company, Colleges and Universities such as Oberlin, Fordham, Columbia,New York University, Boston University, Princeton, Dartmouth, Yale and many more. Accompanying musicians have included Billy Bang,David Ware,William Parker,Thurston Moore, David Soldier,Roy Campbell,DJ Spooky,Steven Bernstein,Zeena Parkins,Lee Ranaldo,Jason Hwang,Sabir Mateen, Elliot Sharpe,David Murray,Ted Daniel,JD Parren and many more.
"William knows no genre bounds and ceaselessly searches for new forms of music, always with the intent to inspire."New York City Jazz Record.

Upcoming Gigs
Saturday, 20 April 2019 6:00 PM
Academy records
12 West 18th St.,NYC.,NY
Listening party for the reissue of my recording MINDFULNESS which features DJ Olive and Glenn Spearman ...now in double vinyl. A record store day exclusive!
&nbsp
More...
Sunday, 05 May 2019 11:00 AM
Funkadelic Studios
204 west 40th St.,NYC.,NY
Funkadelic Studios presents William Hooker "Let Music Be Your Brunch" salon Sunday May 5, 2019 204 West 40th St., 5th fl, NYC 11am – 1 pm The artists that are scheduled to share their perspectives , music, philosophy and art will be Jesse Henry, Theodore Woodward, Wil Ren, Chris Forbes, Matt Chilton, William Hooker. More TBA. *Discerning listeners are also invited This is a FREE event.
&nbsp
More...