CDs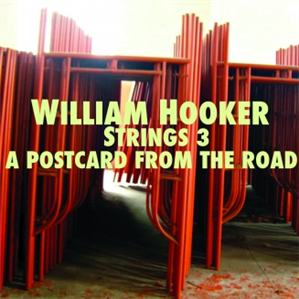 Artist: William Hooker Strings 3
Title: A Postcard From the Road
Legendary avant-jazz drummer William Hooker debuts a formidable new trio, the William Hooker Strings 3, on A Postcard From the Road, featuring William's powerful playing alongside fiery contributions from two hard-working, creative electric guitarists. New York City's Dave Ross has worked with Henry Grimes, Jason Kao Hwang, Charles Downs, and more. Edward Ricart, based in Ohio, plays in avant rock groups Matta Gawa and Hyrrokkin, and has worked with free jazz luminaries Peter Brotzmann, Paul Dunmall, Herb Robertson, Marshall Allen, Jason Ajemian, and members of rockers Fugazi and Tortoise.
Conceived as a three-part suite, the music on 'A Postcard From the Road' was recorded live by a member of the audience in Toronto, Canada, during the trio's fourteen date North American tour in the Fall of 2011. The live recording was subsequently broken into these seven smaller pieces, while preserving the core of each movement and the narrative arc of the suite. The afro-beat inflected main vamp of opener 'Dalang' is perhaps William's 'grooviest' performance to date. The tune begins with a fiery drum solo, and proceeds to swing relentlessly and with boundless energy. 'Sweep the Wind' starts with an unaccompanied solo from Ross. The group erupts into beautiful, skronky freedom, eventually restating and deconstructing the vamp from the previous track. During 'Tantri,' Ricart delivers a rousing solo, contrasting lyrical phrasing with buzzsaw swells of atonality.
Canadian tenor sax titan Glen Hall is featured on two cuts, including a rollicking duo with William. 'Kulit,' a stagger-stepped waltz, evokes both jump blues and the Loft Scene of 1970s in equal measure. In a discography that spans more than thirty years, and collaborations with everyone from David Murray and Thomas Chapin to Bill Horist and Jim O'Rourke, William Hooker has managed to once again tread new sonic ground. His boundless compositional and improvisational spirit is as strong as ever. This latest recording offers a striking look at a strong new unit in action, on the road, firing on all cylinders.

Upcoming Gigs
Saturday, 16 December 2023 8:00 PM
First Unitarian Congregational Society
Brooklyn , NY
William Hooker recites poetry at Issue Project Room event. *Saturday, December 16th at 8pm, a diverse array of twenty artists come together in An Improvisational Symphony to close ISSUE's 20th Anniversary Season, coordinated by vocalist and longtime ISSUE friend, Suzanne Langille. The celebratory concert will take place at First Unitarian Congregational Society in Downtown Brooklyn.***************
&nbsp
More...