CDs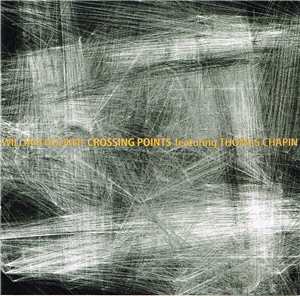 Artist: William Hooker and Thomas Chapin
Title: Crossing Points
William Hooker and Thomas Chapin "Crossing Points", CD
This is a monster duo! One of the greatest duo events of all time. There were a series of weekly duo encounters with William Hooker and different saxists at Jerome Cooper's loft during the summer in the early nineties. I caught two of these with Louie Belogenis and Thomas Chapin and both were incredible.
I recall that Louie and Thomas were pushed even further than usual by William's colossal drumming. Both Louie & Thomas mentioned that William made them dig deep into their souls for two sets each to come up with enough ideas to last through these two encounters. This recording captures the night with Thomas Chapin and William Hooker in all their glory..
Bruce Lee Gallanter - Downtown Music Gallery

Upcoming Gigs
Saturday, 20 April 2019 6:00 PM
Academy records
12 West 18th St.,NYC.,NY
Listening party for the reissue of my recording MINDFULNESS which features DJ Olive and Glenn Spearman ...now in double vinyl. A record store day exclusive!
&nbsp
More...
Sunday, 05 May 2019 11:00 AM
Funkadelic Studios
204 west 40th St.,NYC.,NY
Funkadelic Studios presents William Hooker "Let Music Be Your Brunch" salon Sunday May 5, 2019 204 West 40th St., 5th fl, NYC 11am – 1 pm The artists that are scheduled to share their perspectives , music, philosophy and art will be Jesse Henry, Theodore Woodward, Wil Ren, Chris Forbes, Matt Chilton, William Hooker. More TBA. *Discerning listeners are also invited This is a FREE event.
&nbsp
More...