CDs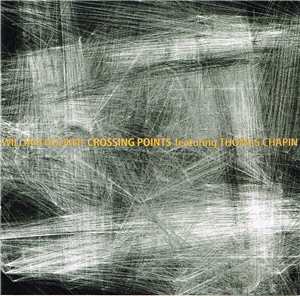 Artist: William Hooker and Thomas Chapin
Title: Crossing Points
William Hooker and Thomas Chapin "Crossing Points", CD
This is a monster duo! One of the greatest duo events of all time. There were a series of weekly duo encounters with William Hooker and different saxists at Jerome Cooper's loft during the summer in the early nineties. I caught two of these with Louie Belogenis and Thomas Chapin and both were incredible.
I recall that Louie and Thomas were pushed even further than usual by William's colossal drumming. Both Louie & Thomas mentioned that William made them dig deep into their souls for two sets each to come up with enough ideas to last through these two encounters. This recording captures the night with Thomas Chapin and William Hooker in all their glory..
Bruce Lee Gallanter - Downtown Music Gallery

Upcoming Gigs
Saturday, 16 December 2023 8:00 PM
First Unitarian Congregational Society
Brooklyn , NY
William Hooker recites poetry at Issue Project Room event. *Saturday, December 16th at 8pm, a diverse array of twenty artists come together in An Improvisational Symphony to close ISSUE's 20th Anniversary Season, coordinated by vocalist and longtime ISSUE friend, Suzanne Langille. The celebratory concert will take place at First Unitarian Congregational Society in Downtown Brooklyn.***************
&nbsp
More...