CDs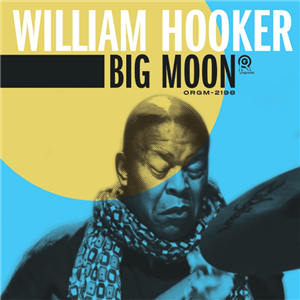 Artist: William Hooker
Title: Big Moon
Over 70 releases and 44 years into his career as a jazz drummer and composer, William Hooker has made (arguably) his best album yet during the pandemic in 2020, a follow up to his critically acclaimed 2019 album "Symphonie of Flowers"". Clocking in at 83 minutes in total (depending on the format you're listening to), "Big Moon" is as expansive as it is groundbreaking. With a reputation as one of the most innovative composers and drummers of his generation, for those in the know, Hooker does not disappoint on this latest work. Supported by a dynamic group of players which varies throughout the piece, Hooker weaves elements of spiritual and avant-garde jazz with tropical rhythms through eleven movements of the meditative journey that is "Big Moon"; a work that should be ingested and contemplated as one body of work.
The release was mastered by Dave Gardner at Infrasonic Mastering. The vinyl release, a double LP, comes housed in a gatefold jacket features poetry from William Hooker.
credits
released September 24, 2021
William Hooker - Conductor, Drums
Jimmy Lopez - Percussion
Jai-Rohm Parker Wells - Bass
Charles Compo - Flute
Stephen Gauci - Sax
Mara Rosenbloom - Piano
Mark Hennen - Piano
Theo Woodward - Synthesizer
Sarah Manning - Sax
Order at ORGMusic

Upcoming Gigs
Saturday, 16 December 2023 8:00 PM
First Unitarian Congregational Society
Brooklyn , NY
William Hooker recites poetry at Issue Project Room event. *Saturday, December 16th at 8pm, a diverse array of twenty artists come together in An Improvisational Symphony to close ISSUE's 20th Anniversary Season, coordinated by vocalist and longtime ISSUE friend, Suzanne Langille. The celebratory concert will take place at First Unitarian Congregational Society in Downtown Brooklyn.***************
&nbsp
More...