A concise history rendered by a writer about my history....mostly covering the 2nd and 3rd phases of my work.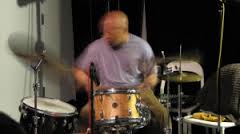 Working on the periphery of the jazz world since he moved to New York in 1974,
William Hooker
's kinetically charged, free-time drumming style and spoken word poetry have been matched with some of the finest improvising talent across generations and stylistic boundaries. From solo explorations to collaborations with
Billy Bang
,
Lee Ranaldo
, and
DJ Olive
,
Hooker
's music has surfaced on a smattering of independently minded record labels aiming to document some of the most distinctive musicians working this indefinable terrain.
Born in New Britain, CT, on June 18, 1946, William Hooker initially approached the drum kit with reluctance. Hesitancy was soon replaced by commitment, however, and at age 12, he was getting his first taste of performing, supporting the Isley Brothers, Dionne Warwick, and Gary "U.S." Bonds as a member of the Flames. In college, he enrolled in a course on 20th Century Composers, writing a paper on the atonal music of Alban Berg. Combined with an independent study of the jazz albums on Blue Note Records, the drummer was ensured a unique music education. Local musicians like the tenor saxophonist Al Pitts and bassist Bob Snell provided more practical tutelage. Hooker eventually made a trek out to the West Coast with his good friend Tyrone Lampkin (future drummer for Parliament/Funkadelic), an eye-opening experience for the young musician. While he was disappointed by the lack of ability on the jazz scene as a whole, the radical consciousness of the period led to his initial attempts at "free" playing. Hooker moved back to Hartford, CT, where he lived briefly before heading to New York in 1974.
In his new home, the drummer quickly established himself amongst the city's jazz, loft scene. The new jazz of Delmark and Actuel BYG began replacing the Blue Note Records in his collection. Unable to find a label for himself, Hooker established the non-profit Reality Unit Concepts to fund his debut, 1978's Is Eternal Life, a collection of solo, duo, and trio performances with prominent tenor saxophonists David Murray and David S. Ware and altoist Jemeel Moondoc. Hooker spent much of the 1980s hard at work, performing with a number of his own ensembles. Rather than establishing a regular unit, the drummer drew from a community of musicians that included trumpeter Lewis Barnes, saxophonists Blaise Siwula and Charles Compo, pianist Mark Hennen, and guitarist Jesse Henry. Sadly, little of the music he made during the decade found its way onto records. It wasn't until the early '90s that more outlets became available. Hooker's work emerged on independent labels like Knitting Factory, Silkheart, and Homestead. The drummer began receiving increasing attention from the underground rock sector. Fans and artists of post-punk and indie rock were turning their ear toward experimental and improvised music, including the sort of free jazz Hooker performed. Sonic Youth's Thurston Moore, a longtime admirer of the genre, released the drummer's Subconscious album (1994) on his Ecstatic Peace label. Hooker soon began performing with younger musicians beyond the immediate scope of jazz (oftentimes at Knitting Factory jams). Shamballa (1993) pits Hooker's fiery drumming against the unkempt feedback bursts of Moore and the calculated guitar electronics of Elliot Sharp. Envisioning (1994) captures an improv date with Sonic Youth's Lee Ranaldo that includes spoken word segments. The duo was joined by the ecstatic electric harp work of Zeena Parkins for the date that produced 1995's the Gift of Tongues. Hooker also brought electronics into his music, collaborating with Brian Doherty, Doug Walker, and Gert-Jan Prins, and turntablists DJ Olive (on 1995's Armageddon and 1997's Mindfulness) and Christian Marclay (2000's Bouquet). ~ Nathan Bush, Rovi

Upcoming Gigs
Saturday, 16 December 2023 8:00 PM
First Unitarian Congregational Society
Brooklyn , NY
William Hooker recites poetry at Issue Project Room event. *Saturday, December 16th at 8pm, a diverse array of twenty artists come together in An Improvisational Symphony to close ISSUE's 20th Anniversary Season, coordinated by vocalist and longtime ISSUE friend, Suzanne Langille. The celebratory concert will take place at First Unitarian Congregational Society in Downtown Brooklyn.***************
&nbsp
More...