The Washington Post - William Hooker and Oscar Micheaux - By Giovanni Russonello February 26, 2015
William Hooker and Oscar Micheaux, visionaries across eras and art forms
By Giovanni Russonello February 26, 2015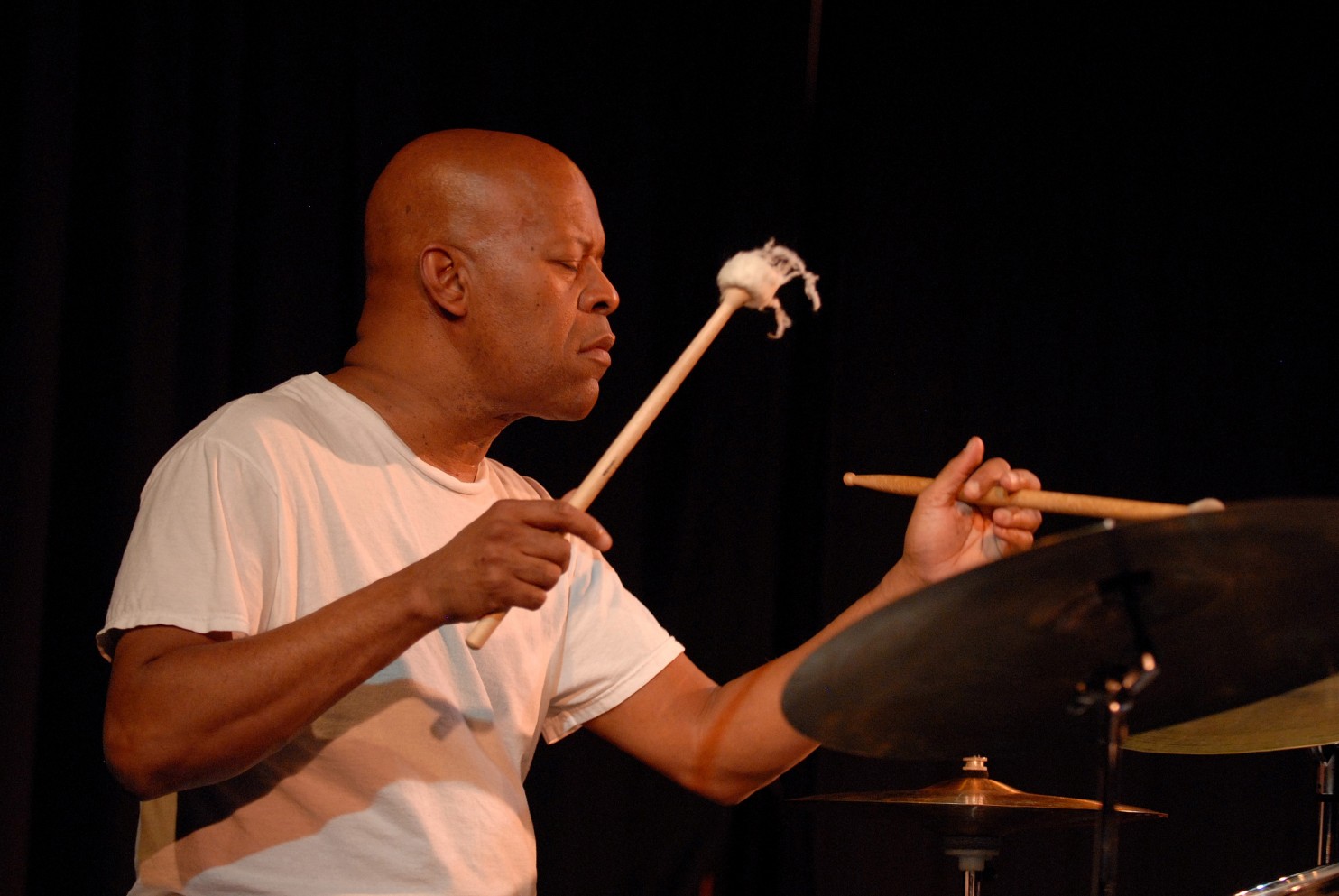 NEW YORK — William Hooker is sitting on a marble bench at Lincoln Center's David Rubenstein Atrium on a recent Friday, nursing a coffee and holding forth. The 68-year-old drummer is voluble and enthusiastic and direct — the way he plays his instrument.
Exactly one year earlier in the atrium, he led his band in an accompaniment for Oscar Micheaux's classic 1925 silent film, "Body and Soul." It was a big, unlikely thing: avant-garde improvisers playing to an ancient film at a state-of-the-art venue in Midtown Manhattan, with no entry fee and a line out the door.
"It was exciting because I realized I had the resources I needed to make my vision real," Hooker said. "If you don't have your resources together, when you're putting together the program you end up planning less than what you originally envisioned."
Maybe he can identify a bit with Micheaux, a trailblazer and independent by nature who never waited for a rejection letter from Hollywood: In the 1910s, he established a movie studio on the South Dakota frontier, becoming the first major African American director and a pioneer of indie cinema. His production values were always low, but he logged one of the most prolific careers in early cinema.
"He tried to do what he had to do in the midst of compete disrespect, degradation and oppression. He had no resources whatsoever," Hooker said.
This weekend, Hooker will perform to two of Micheaux's films at AFI Silver Theatre in Silver Spring, Md. On Friday, he will play an improvised solo set to "The Symbol of the Unconquered" (1920), and Saturday his quintet will perform a new arrangement of Hooker's "Body and Soul" score.
Since moving to New York in the 1970s, Hooker has been among the city's most vigorously enigmatic drummers. He has led idiosyncratic small ensembles with everyone from legendary free-jazz violinist Billy Bang to Sonic Youth's Thurston Moore.
Hooker sees inspiration in Micheaux's unfettered spirit and groundbreaking work — especially "The Symbol of the Unconquered," whose narrative of black resistance and success was a tacit reply to D.W. Griffith's racist blockbuster, "The Birth of a Nation."
"Just to be able to stick to your guns and do your thing with dignity, and give people an image of themselves that they have never seen before on screen, that's a heavy thing," Hooker said. This week, drifting in the wake of yet another bathetic Oscars broadcast, it's an appropriate time to consider Micheaux.
"Many of the things that are happening right now are in those two films," Hooker said of the movies screening at AFI this weekend. "Just making people aware of the fact that these issues still are here 100 years later reminds you of how it's actually kind of boring," he continued, wryly smiling. "We should be thinking about 'Space Is the Place,' but we're still thinking about, 'Oh, am I going to get lynched? Oh, am I getting respect? Oh, should I do work and not get paid?' Same old crap. It's boring."
Oscar Micheaux was born in 1884 in rural Illinois, the son of a former slave. Amid the brutality of post-Reconstruction America, he sought a position of strength on the outskirts. Living in Chicago as a young man, he opened a shoeshine operation in a remote, white suburb where he would have little competition. At 22, he moved to South Dakota to start a farm. He found relative acceptance among a community of German immigrants, who saw both white and black Americans as similarly foreign.
Micheaux contributed articles on his experiences to black newspapers, and in 1912 he tried his hand as an author and self-publisher. He sold his first book, the largely autobiographical "The Conquest: The Story of a Negro Pioneer," through ads in national newspapers. Then he turned it into his first movie production. Again, he was apart from the pack: No prominent black filmmakers yet existed, and few films featuring African Americans in leading roles had been produced. (Micheaux's are the oldest surviving.)
Set in the early years of Jim Crow, Micheaux's films aim to empower their subjects with middle-class lifestyles, and sometimes skirt issues of racism. "Body and Soul," the first film to feature Paul Robeson, centers on a corrupt preacher who swindles a small town while his twin brother struggles to survive with honest work. But with "The Symbol of the Unconquered," Micheaux cut to the quick. He used humor and heroism to address the spectrum of racial politics — from color discrimination within the black community to wealthy landowners' manipulation of poor whites — as a means of depriving blacks of property and security. The film's climax involves a confrontation with the Ku Klux Klan (although the tape of some crucial moments has been lost).
In the early 20th century, as African Americans moved en masse to towns and cities across the country, movies were becoming the most popular form of entertainment. Micheaux also worked hard to screen many of his films in Europe, the Caribbean and South America, and he hoped cinema could help weld together a global black consciousness.
Still, he never earned full recognition in the film academy or the black media. His films, although often emotionally penetrating, were too unconventional and lacked the production values needed to compete with Hollywood fare. And they were rarely shown at cinemas that catered to white or even mixed-race audiences.
When a friend brought Hooker a VHS tape of "The Symbol of the Unconquered" more than a decade ago, he was struck by its insistence upon black self-empowerment and professionalism. During that time, Hooker spent his days teaching social studies and math at a junior high school in the East Flatbush neighborhood in Brooklyn. He showed it to his students. "They didn't like it," he said, laughing.
But Hooker has long blended visual art, dance and film into his musical projects, and he likes to talk about a "continuity of consciousness" running across media. He hoped a contemporary soundtrack might get the film back on people's radar. Children who are junior-high age, he says, are his biggest target audience.
"William's very flexible. I've always seen him work with dancers and poets and filmmakers," said Matthew Kohn, a filmmaker who has collaborated with Hooker on projects for over 20 years. "He often talks about all these big ideas of humanity, but through the work with Oscar Micheaux's films he's been able to detail how it all comes together through his music. It's infusing all of the aspects of his personality and his experience as a composer and a human being."
Russonello is a freelance writer.