Local Musician's Album Honored - By Chris Seymour New Britain City Journal December 19, 2014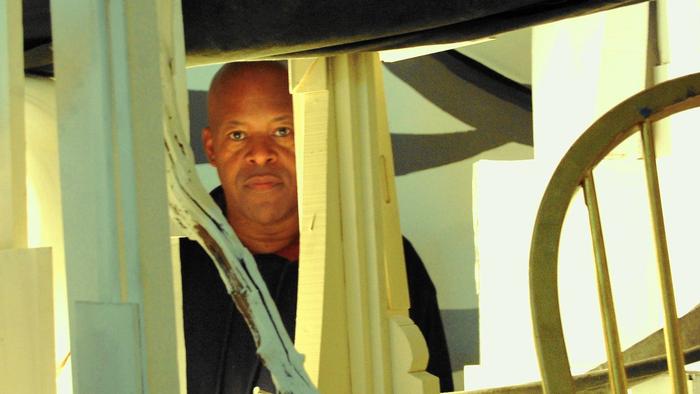 Renowned drummer and New Britain native William Hooker recently had a live album of his named among the "best jazz albums" of 2014 by a prominent musical publication.
In fact, "William Hooker & Liudas Mockunas, Live at the Vilnius Jazz Festival," which was recorded in Lithuania in October 2013, landed at No. 12 on the list of the 25 "best jazz albums" of 2014 by Burning Ambulance, a quarterly journal of arts and culture that focuses on music.
"I was really happy about that," said Hooker from New York City in a phone interview with The City Journal last week. "It was a surprise."
In its write up about Hooker and Mockunas' performance being named a top jazz album of 2014, Burning Ambulance described Hooker "as a human avalanche of a drummer, blurring the lines between free jazz, avant-rock and metallic noise," while noting that, "in recent years he's begun to explore quiet and subtlety more than ever, and this sax-drums duo performance is remarkably beautiful."
Another review—this one on allaboutjazz.com—noted that, "the combination of muscleman drummer William Hooker and Lithuanian saxophonist Liudas Mock?nas surely delivers the goods in this 53-minute duo improvisation performance."
Mockunas visited the US about a month ago and did some more performances with Hooker in advance of their album being released. "He came over here from Lithuania and we did a series of gigs here in Brooklyn and then he went back and our CD came out," said Hooker, who has lived in New York City for approximately 40 years.
"It is our place to be; it's a vibrant place for us," Hooker said of he and his wife Donna and their relationship with the Big Apple. "We like New York but we also like coming back to New Britain to spend time there as well."
When asked about his fondest memories of growing up in New Britain, Hooker responded, "Raphael's around Christmas time." These days, when he returns to the city, he enjoys taking walks in Stanley Quarter Park near CCSU.
New Britain is where it all got started for Hooker, who has released over 60 albums over the course of a nearly 40-year period. "It's been a very, very beautiful thing," said Hooker of his longevity in the music industry. "I would've never thought this was going to be happening; I can't even begin to tell you."
Hooker said he was initially drawn to the drums when he was a boy around the age of six or seven. "What drew me to them I really don't know, probably the sound of them," explained Hooker. "It just so happened that after a while I started to really like playing and then it just grew from there."
On his website, Hooker notes that he considers himself a "jazz musician," explaining, "I know this word is defined in many different ways. My work fits in the jazz tradition because it's based on improvisation [and] it's based on learning one's craft."

Upcoming Gigs
Monday, 09 October 2023 4:00 PM
Arts for Art
33 East 1st St., NYC
William Hooker Trio featuring Hilliard Greene , bass John King , gtr William Hooker , drms
&nbsp
More...
Sunday, 15 October 2023 11:00 AM
Funkadelic Studios
209 West 40th St.,NYC
William Hooker "Let Music Be Your Brunch" featured artists include Laura Feathers , John King , Dave Sewelson , Patrick Brennan , Nory (the rapper) , Hans Tammen , Kevin Ramsay , Dafna Naphtali , , Yaching Cheung , On Davis , William Hooker and more TBA Funkadelic Studios 209 West 40th St., NYC Free
&nbsp
More...