William Hooker speaks with Mike Hamad
Drummer William Hooker To Perform Live For CCSU Screening Of 1925 Silent 'Body and Soul'
By Michael Hamad March 4, 2015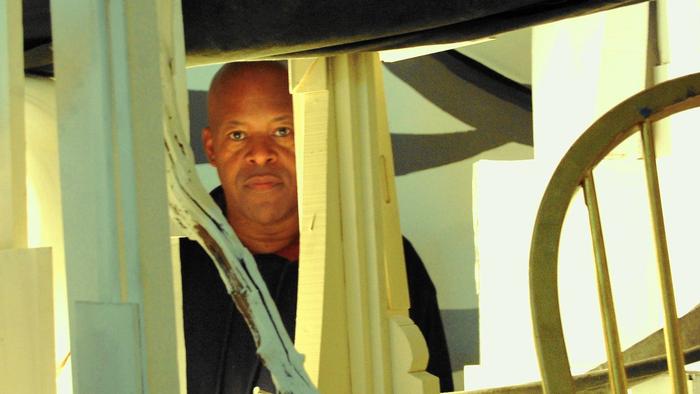 Wlliam Hooker once again pairs silent film and avant-garde music on Wednesday, March 4, at 7:30 p.m., with a double-quartet performance of Oscar Micheaux's 1925 "Body and Soul" at Central Connecticut State University's Torp Theatre in New Britain. The event is part of a two-day conference called "African Bodies, Souls and Global Challenges," hosted by the university's Center for Africa Studies.
In forward-thinking music circles, Hooker, 68, is known for his work with Sonic Youth guitarists Thurston Moore and Lee Ranaldo, saxophonists Roy Nathanson, David S. Ware and David Murray, and turntablists D.J. Olive and Christian Marclay. He's also a prolific composer and a booster for the arts in New Britain, his hometown.
Until his death in 1951, Micheaux independently produced more than 40 films, made with African-American casts for African-American audiences. Despite having a star on the Hollywood Walk of Fame, Micheaux never received the attention given to contemporary white filmmaker D.W. Griffith, whose 1915 film "The Birth of a Nation" depicted the Ku Klux Klan in a positive light. (Micheaux's wife, Alice Russell, who outlived him by 30 years, destroyed a large portion of his films and memorabilia.)
Two years ago, Hooker staged a performance of Micheaux's "The Symbol of the Unconquered" (1920) at New Britain's Trinity-on-Main, after presenting it in Belgium, New York City, Cologne and Hartford's Wadsworth Atheneum. This past Friday, Hooker performed an improvised solo set to "The Symbol of the Unconquered" at AFI Silver Theatre in Silver Springs, Md., then followed it on Saturday with a quintet performance of "Body and Soul."
At CCSU, Hooker will divide the 80-minute "Body and Soul" — starring Paul Robeson in his first film role, as a prison escapee masquerading as a small-town minister — into two halves, with a four-minute break in-between. The arrangement allows Hooker to present contrasting musical scenarios with two different quartets. In the first half, Hooker said, "I try to take people to that part of the South and that part of the rural experience as best I can, especially with the slide guitar and how that can be used. It brings up deep-welled feelings in the observer."
The second section emphasizes the electric violin and horns. "We change the feeling completely, from the deep South to almost an urban environment, and it works that way in terms of the whole migration experience. It involves the experience of those people in that time."
At CCSU, Hooker's seven-member ensemble includes pianist Mark Hennen, trumpeter Matt Lavelle, violin player Skye Steele, reed player Ras Moshe, and guitarists Cristian Amigo and Tor Snyder. Hooker plays drums for the first half of the concert and switches to percussion for the second half. A discussion will follow the viewing of the film.
Copyright © 2015, Hartford Courant

Upcoming Gigs
Saturday, 16 December 2023 8:00 PM
First Unitarian Congregational Society
Brooklyn , NY
William Hooker recites poetry at Issue Project Room event. *Saturday, December 16th at 8pm, a diverse array of twenty artists come together in An Improvisational Symphony to close ISSUE's 20th Anniversary Season, coordinated by vocalist and longtime ISSUE friend, Suzanne Langille. The celebratory concert will take place at First Unitarian Congregational Society in Downtown Brooklyn.***************
&nbsp
More...